Prefab Garage Kits Engineered Plans
If you'll need a building permit for your new garage, we'll be happy to provide you with any engineering documents necessary to obtain one.
Unfortunately, we're not able to keep up with building regulations in all of the many towns and cities across the country. However, we do have associations with engineers licensed to practice in 48 states, and are more than happy to guide you through the process of securing a building permit, where one is required.
Our prefab garage kits are considered removable. By "removable" is meant that once the building has been assembled, it can be disassembled, and moved to a different location. In some areas, this feature means you will not need a building permit.
Some building authorities require complete plans, with full engineering calculations and specifications. Such plans are often referred to as "engineered plans." We offer such plans for any of our buildings – and they also include engineering for your garage's foundation and concrete work. (Many companies provide plans for the building itself, and you must arrange for foundation engineering separately.)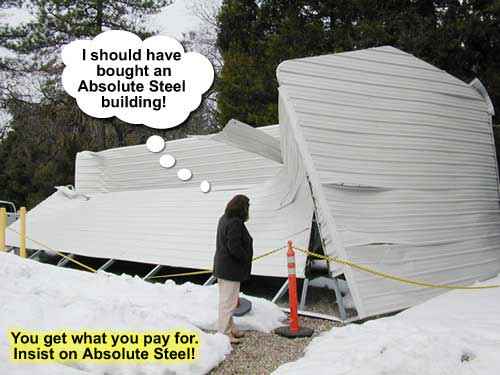 You should understand that ensuring you abide by local building codes is ultimately your sole responsibility.
Though we always make a point of informing customers about the possibility that they will need a permit, a fair number of those who purchase our buildings decide not to seek out a building permit before setting up their garage.
Whether you choose to apply for a permit or not, we strongly recommend that you check into and follow local setback rules. These regulate how close to your property line you're allowed to build. If such rules aren't followed, you may later be required to relocate your building – which can be time consuming, inconvenient and sometimes expensive. It pays to do your homework ahead of time.
Obtaining a permit after you have constructed a garage is possible. In fact, it may not be difficult at all, provided you have taken care to secure the building and install it according to its plans and instructions. It generally is not much trouble if you properly anchor and assemble your building.
Even if you decide not to obtain a permit, it's wise to document certain steps of the building process, just in case the information is needed later on. Specifically, get pictures of your foundation work, with a measuring tape in each shot so depth and other dimensions can be seen. Pictures showing reinforcing bar in place before the concrete is poured are also important. For more info and advice on foundation work, see our concrete / foundation information page.
Building Permit and Engineered Plan Costs
Fees for building permits vary widely from town to town. Some of our customers report paying under $100, while others have been required to pay more than $800.
If you need engineered plans as part of your permitting process, we normally provide you with 3 sets of plans – originals, with a licensed engineer's stamp and seal. For most garage buildings, we charge a fee of $750 for these plans. In some cases, such as with specially customized designs, or where a steeply sloped construction site needs special foundation engineering, fees may be as much as two to three times higher. We can also provide you with engineered plans after your building has been completed, if you discover you need them for any reason.
The fees we charge you for engineered plans reflect what we must pay our engineering associates for their services and certification. In turn, the engineer's signature represents assumption of liability for the accuracy of all calculations, etc. In other words, we make no profit on the plans we deliver to you.
For more information on engineering costs, give us a call. One of our representatives will be able to assist you and provide an estimate when you speak to him / her.
We will always arrange to provide such plans, even if you find you need them after the structure is erected.
Ordering Plans
We ask that you please consult your local building department prior to ordering engineered plans. First, you'll need to know whether they will allow you to set up a building in the location you've selected. Second, you will want to find out what documents they will require as part of the permit process.
In some areas, you may only need to present the manufacturer's instructions for assembling your building. Others may want only "shop drawings," or copies of the plans for the type of building you've chosen (that is, original, signed and sealed plans are not necessary). We'll be happy to supply you with such drawings or copies, free of charge, providing we have them on file. You don't want to be paying for original engineered plans, if you don't really need them!
When you speak with the authorities, there are two things to be sure to ask about:
1. "Setback" regulations. By this is meant how close to your property's boundaries you're allowed to put up a new building.
2. How far a new building must be from existing buildings.
Finally, if you learn that you will have to provide engineered plans in order to get a building permit, ask for the design load requirements for buildings of your garage's type. Our engineers will need these figures in order to provide you with the proper documents.
Once you have checked into the points mentioned above, your next step is to complete our Engineering Request Form.  This can be done online, or you can print a copy of the form, fill it out and fax it to us at 480-768-1514, along with a hand-drawn sketch of the floor plan you'd like for your building. (This can also be done by regular mail, or in person.)
Once we have your form and sketch, we will send you a more detailed drawing of your new garage, and an invoice for the necessary engineering fees. Once this invoice has been paid, we will forward your request to one of our engineers.
Need more information? Feel free to call us toll-free at 1-877-833-3237