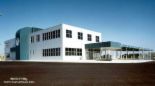 While you might be excited about the prospect of having your own steel building, there are plenty of other details that you may have overlooked. When you're building anything, you will want to consider certain questions in order to achieve your desired results. There's an old saying that a carpenter 'measures twice, but only cuts once,' and you should follow that sage advice.
What do you want to build? There are dozens and dozens of steel buildings that you could build, but what are you going to use the space for? If you have a certain idea in mind, you will want to start considering what you will be doing in that space as well as what you need to do it right. You might want to talk with steel building suppliers to tell them what you have been considering and what that might entail. With all of their experience, many steel building contractors can give you suggestions as to what might work out best.
Where is the space that you have? While the size of the steel building you want might be a number in your mind, you will also want to consider where the building will be located and what that will look like. This is especially the case when you're considering using your steel building for a business purpose or a storefront. You want to have a professional image and one that doesn't overpower other buildings in the area or look out of place.
What environmental concerns do you have? You will want to consider the weather conditions that your steel building might be facing and talk to the steel building manufacturer to ensure that your building is engineered to meet the requirements of your area and will meet you local building codes as well as the loads particular to your needs. Colorado residents, for example, might need to have a building that can withstand a lot of snowfall, while those in California might need a structure that can handle earthquake regulations. A qualified supplier will help you understand the elements that your steel building might have to face. They will also discuss the specific needs for your building in order to design the building that works for you.
What are you planning in the future? The great thing about steel buildings is that you can add onto them in the future. In the case of a residential steel building, you might want to add a shed or an extra office, so make sure that this fits into the plans. On the other hand, a commercial steel building might need to have extra storage or offices at some point, so make sure that you can do that in the future as well.
How do you plan on assembling it? Smaller steel building packages may be able to be built by you, but in the case of larger steel building kits, you will want to contact a qualified contractor or steel building erector. If you don't have help available, you will want to ask the steel building company if they can recommend anyone to help you.
Steel buildings are the wave of the future, but the choices that you make now will impact what you have and need in future years.
You might be interested in viewing these:
Tuesday, February 17th, 2009 at 4:44 am
Written by: Robert Armstrong