Steel Frame System
The steel frame system is the pre-engineered core of our steel building kits, designed to give you superior strength and flexibility.
With so much value for your dollar, it's no wonder our steel building kits are so popular with residential and commercial customers throughout the United States and Canada.
They're in use by every branch of the U.S. military, as well as countless town, city, county, state, and federal government entities – and our list of satisfied private businesses and residential customers is long indeed.
Just a few of the benefits:
Cost effective when compared to wood-frame construction.
Fire resistant.
Easy to put up. No special equipment needed.
You can get instant pricing on a structure that matches your specifications, and have it shipped to you ready to install.
You never have to mess with complicated calculations, lists, regulations and codes.
Corrosion and rust resistant.
Termite proof.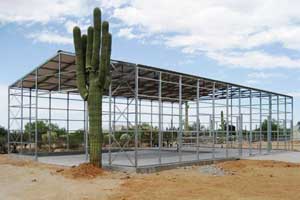 Completed frame system (Sierra building)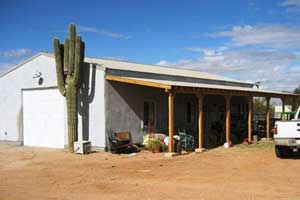 The same frame with a stucco finish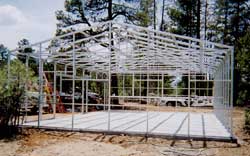 Framing complete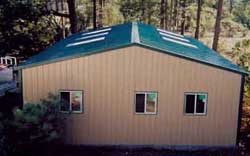 Finished building

The steel frame systems in all our kits are designed to distribute load stresses evenly, throughout the frame.
Other building kits are assembled by attaching purlins and girts to a rigid I-beam. This heavy beam bears almost the entire load stress of the building. That's why it has to be so big and heavy, requiring a forklift or crane to assemble. Using this method, the exterior panels are most definitely a part of the structural consideration – necessary to hold the structure together. And in buildings up to 12.5 feet high, the exterior wall panels are usually attached at two points: close to the floor, and up at the eave (where roof and wall meet).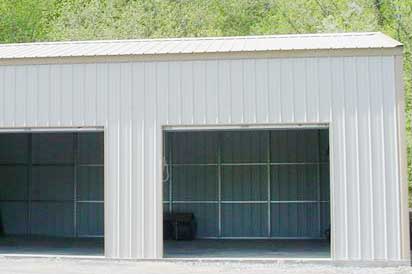 That's it! Not good, eh?
Take away the exterior panels on a building like that, and you'll find there's nothing there – no support, no stability! This is why the competition brags about their "heavy duty" 26-gauge panels. They need them!
Thanks to our design, you don't need such heavy wall panels. 
What does this mean to you?
It means you won't be dealing with large I-beams that require forklifts or cranes. Our heaviest single component weighs 28.65 pounds!
It means your end walls won't need those frustrating cross-tied cables that never adjust properly. We don't believe a building should have to be wired together!
It means you'll save money on your concrete and foundation because you won't need deep, massive footings to support the I-beams' isolated load stress. Original engineered plans for your building include the concrete/foundation plan!
It means you've come to the right place!
Sierra Style Buildings – An Added Advantage: When you choose one of our handsome Sierra style buildings, you get an added advantage: you can use most any exterior material you choose: wood, stucco, brick, stone, you name it. You can finish your Sierra garage or shop to match your house, landscape or most anything else you want!