Technical Frame Information
When it comes to your steel-framed buildings, buy quality and buy it direct!
Steel-framed buildings are what we do and who we are. We are the manufacturer and distributor. Our buildings are in use by thousands of customers, including all branches of the U.S. military, and commercial, governmental and private folks.
We at Absolute Steel are dedicated to constant improvement. Please take a moment to understand the technical aspects of our building systems. We've tried to keep this information easy to understand. Information and pictures of similar products made by other companies are furnished only for comparative evaluation.
Exterior Metal Panels
We think it important for you to know that Absolute Steel, and our metal roofing division Metal Roofing Source, are two of the largest independent distributors of metal panels in the USA. We know steel panels. Regardless of whether they are being used for roofing or exterior walls, our expertise has been built through years of experience and substantiated by thousands of satisfied customers.
The Best Paint Finishes
A very important factor in your choice of paneling should be the paint finish. The panels we will supply you have a ten-layer protective finish topped with Enduracote – a coating system that takes performance to a new level. This system offers unbeatable durability, superior color retention and resistance to dirt accumulation. Enduracote is the choice for low-maintenance, lasting beauty and outstanding value.
You can rest assured that that all our exterior metal panels are made in America and carry the best guarantee in the industry:
Standard galvanized coating
30-year non-prorated film integrity warranty for walls and roofs
Up to a 30-year warranty against fade and chalk for walls and roofs.
Highest Yield Strength
"Highest Yield Strength" is a measurement of stress tolerance in sheet metal. To determine its rating, a sheet of material is subjected to extreme stress, to find the point at which it undergoes a permanent strain – where it begins to yield or "go plastic." Our panels our rated at a yield strength of 80,000 pounds. That's 40 tons of pressure per square inch. Translation: This is some tough stuff!
Maximum Rust and Corrosion Resistance
There's a good reason our steel buildings have been chosen for by all branches of the US Armed Forces, and for such uniquely demanding applications as the high-corrosion environment of Cargill's Ohio salt mines.
Our Buildings are Tested Under the Toughest Conditions

United States Army

United States Marines

United States Navy

United States
Border Patrol

Dept. of Homeland Security
Our building frames are comprised of 2"x3", 14- and 15-gauge steel tube. In a few cases, we use even tougher 13-gauge material, to bear up to higher stresses. Here are some representative specifications:
Base Rails/Side Walls: 55,000 psi minimum yield strength
Peaks/Eaves: 65,000 psi minimum yield strength. (The competition settles for 50,000 psi minimum yield strength or less.)
All components receive a galvanized protective layer that exceeds industry standards. As a final measure, even this extra-strong layer receives a patented clear coating, for unsurpassed corrosion protection.
Component Engineering and Manufacture
Let's look at how our components are made, and why.
Base Rail System: A better foundation.
You know that any building's base is one of its most critical components. It's literally the foundation of the building's strength. 
This is why Absolute Steel uses an "insert system" in all its base components. None of the base's critical parts, which bear the structure's weight, have been subjected to crushing, rolling or bending, as practiced by other manufacturers. Instead of light, 15-gauge tube that's been stressed, fractured and compromised, you get thicker, unstressed 14-gauge inserts that overlap their accompanying wall supports by a full eight inches.
This method requires a bit more time and work – but the benefits, in addition to strength, are obvious:
At the lowest points, where water or condensation can collect, you have thick and uniform connections that are much better than swedged inserts with thinned, stressed walls. (Swedged = made narrower by crushing or rolling.) 
8" vertical inserts of uncompromised steel give you more room and greater strength for wall-height adjustment, when dealing with site irregularities.
You always get a smooth, easy fit. You'll never need a sledgehammer to pound parts together, just because the manufacturer's machinery was out of adjustment.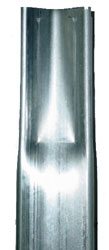 The Worst Connection
(Crushed and bent)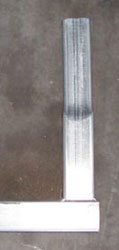 A Better Connection
(But still uses stressed metal)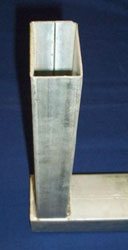 The BEST Connection -Ours(No bends = uncompromised strength)
Side-Wall Framing: One-piece sidewall studs make for easier assembly and stronger walls.
It's pretty obvious that a wall stud pieced together from several separate parts isn't going to be as strong as a single, solid piece of steel.
That's why we use single-piece studs that run all the way from base to eaves. This means:
A stronger finished wall.

Fewer parts to manufacture, fewer parts for you to assemble.

Straight walls every time, with easy height adjustments if needed.
Here's a picture of an insert system that uses height extensions (extra, inserted components) for different desired wall heights – and a shot of our one-piece system.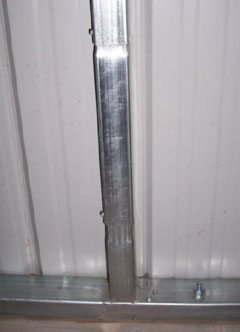 Their Multi-Piece Sidewall
It stands to reason that with more parts and connections, you get less overall strength. Not to mention the extra work involved!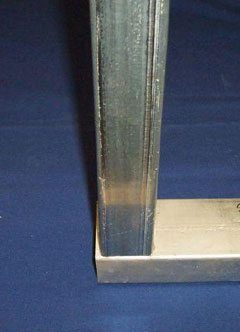 Our Single-Piece Sidewall
This is ours. No additional parts to mess with, no extra connections to make. Result: A simpler, stronger sidewall that goes up faster!
Peak and Eave Bends: The beauty of the "Power Bend"
The strongest,  most efficient way to "turn the corner" at your building's roof peak and eaves is to carefully curve the steel frame. But if these bends aren't well engineered and executed, they can weaken the frame, right at its most critical points. We've solved this in two important ways.
First, our peak and eave bend components are made from top-grade steel with a yield strength of no less than 65,000 psi.
Second, we use a curving process that is unsurpassed for uniformity and strength. Here's why:
You probably know why modern automobile bodies are designed to have some curves and angles. It's the same reason an L- shaped piece of metal ("angle iron") is stronger than a straight piece. Those curves and angles add strength to the metal.
There are several different techniques that can be used to make bends for peaks and eaves. One is crushing, which weakens the bend at the point of curvature. Another is rolling the bends into straight steel.
A rolled bend is vastly superior to a crushed bend (we won't even discuss crushed bends further – they're utter junk) but some rolling methods are definitely better than others.
Any rolling process stretches the steel, and makes it thinner. At Absolute Steel, though, we use a special rolling technique that produces what's known as a Power Bend. The resulting curve has had strength added to compensate for the strength that's been unavoidably taken away. In fact, our Power Bend adds six more surfaces to the original steel tube, with condensed angles and curves that strengthen peak and eave bends where they need it most.
To illustrate, here are some typical bends made with the "mandrel bend" process used by many manufacturers: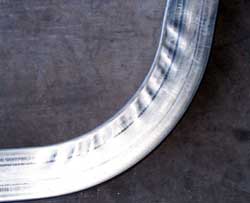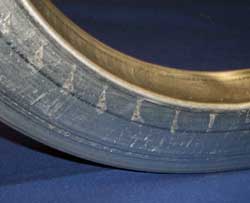 Users of this system brag about a "smooth mandrel bend for a cleaner look and a stronger bend transition." Sounds great, but there are problems here. Look at the stress lines in the steel, along those curves. You know what's happened: the steel has been stretched in the rolling process. It's thinner and weaker than it originally was.
Now here's the Power Bend: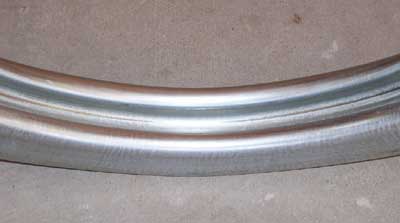 The Power Bend is accomplished by rolling over the excess steel (not just stretching it out into the part) at the same time that the curvature is created. The resulting rolled edges enhance integrity and strength, rather than leaving you with stressed and weakened steel. .
Need more information? Feel free to call us toll-free at 1-877-833-3237