Get your metal storage buildings or storage building kits direct from the manufacturer.
  Industrial Size and Style

Agriculture Style 
Metal RV Storage Building

Residential Building

Kit Completed
Metal Storage Building Styles and Models
Absolute Steel's buildings come in a variety of styles and models to fit most any purpose, taste and budget. We've got storage structures with an industrial look as well as models that will fit right in with your residence and neighborhood. No other steel building company offers you the selection that Absolute Steel does!
Want to look over the different styles? Click here for our metal storage buildings styles.
Storage building kits with a frame system that goes up EASY!
Your storage building kit comes with a high-strength galvanized frame system that goes together with no special equipment needed. With all but our largest models, there will be no need for costly cranes or lifts.
Storage buildings in sizes that fit your needs.
Our buildings are available in standard widths that can go from 10′ up to 40′ wide, and just about anything in between. We're the manufacturer, and we're happy to work with you and provide exactly what you want.
Our storage building kits can be produced in lengths from 12 to more than 200 feet. Again, just let us know what you're after.
Side-wall heights, peak heights, roof pitches, trim options – all can be suited to your particular applications and preferences.
Your frame system is top-grade American steel
Absolute Steel's metal building kits are the result of a constant pursuit of excellence. We use only American steel – it's the only kind we can be certain will meet engineering standards. Our parts are all fabricated right here in the USA. And when you speak with our staff, you're talking with someone who's just a short walk from where your building kit will be put together – they're knowledgeable, experienced and helpful.
Check out the technical details that prove why Absolute Steel's system is the very best choice for your new building.
Tested and Proven
Absolute Steel has a solid reputation that's decades old. Our metal storage buildings have been put to the test by every branch of the US military, and met their strict requirements for being tough, easy to install and cost-effective.
You'll find our storage buildings in all sorts of environments – from freezing temperatures and heavy snows to tropical storms to the corrosive world of underground salt mines.
Click here for a map of the many places across the US where you'll find our buildings in use. And this is just the "lower 48" states – these days you'll find Absolute Steel structures all around the world!

If you were picking out a new car, you'd be sure to consider its safety record and test results. Well, with Absolute Steel you can do the same in choosing a storage building.
Best Quality, Best Service, Best Prices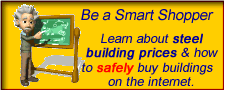 No matter what you're purchasing, you always have a choice: go direct to the manufacturer and deal with the horse's mouth, or deal with a horse's ____. One only has to make a quick inspection on the Internet to find out what a company's reputation is. Just Google the company's name and the word "scam" or "rip-off" and if they are not a good company, you'll quickly know it. You'll see horror stories from previous customers, as well as regulatory and investigating agencies.
Companies can use all sorts of tricks to persuade you to give them a deposit, based upon some "special pricing" that they're going to "hold for you," or because of a "discontinued" or "overstocked" model or "a building the customer ordered but never picked up."
Don't fall for it.
We give you straight-up steel building prices – the most competitive we can make them and still stay in business. And we never, never, ask for a deposit just to shake you down for more money before you get your steel building. Fact is, you can order your engineering without a deposit and we'll lock in your steel building prices for you while you get your permit.
For the best prices on metal storage buildings by the most reputable people in the business, call us at 877-833-3237 or get a quote right here.
---

What is the difference is between a metal building and a steel building?
At Absolute Steel there is no difference. All of our building systems are made of steel and only steel. Steel buildings are always made of metal but not all metal buildings are made of steel.

Please call us at 1-877-833-3237 with any questions!