The Foundation
Note: Residential building foundation needs and regulations differ from location to location.
Kit houses from Absolute Steel have been engineered for concrete foundations of two main types:
Floors and footings
Concrete piers
Floors and Footings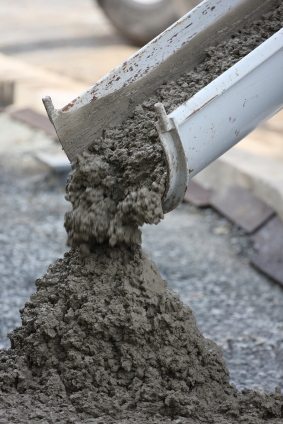 Many locations call for a foundation consisting of a 4" concrete slab, on top of a footing around the whole perimeter. Minimum footing specifications are most often 12"deep by 12" wide. Requirements are different from location to location, so your best bet is to give us a call and discuss the matter with one of our kit home representatives.
If you're taking the do-it-yourself approach, here are some details.
Slab
Your pad's concrete should be rated at least 2500 psi (pounds per square inch). It should be reinforced either with fiber mesh added to the concrete mix, or with #3 size reinforcing bars (steel) spaced 24" apart. Finishing of the slab should include expansion joints, whether cut with a saw, or added during the finishing process.
Footings
Your footing should be poured at the same time as the slab – known as a monolithic pour. ("Monolithic" comes from Greek words meaning "one stone".) The footings, which extend all the way around the outer edge of the slab, should normally be at least 12" deep* and 12" wide. The thickness of the slab can be included in that 12" depth measurement. Steel reinforcing bars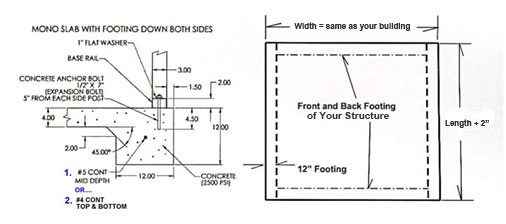 Concrete Piers
Some customers use concrete piers for their do-it-yourself home kits because the floors are elevated and this allows for crawl space underneath that makes getting some of your infrastructure elements such as plumbing in after the fact. Repairs are also easy to perform when your floor is elevated in such a manner.
If you are building in remote area where concrete trucks can't access your building site, concrete piers are the only way you're going to get the job done. Should you elect to build your home kit in such a manner, you'll spend a bit more because of the steel framework required and then the floor decking you'll have to put over the steel subflooring.