Commercial carports and covered parking structures are broad terms. Let's focus on what they mean to you: what you need, or intend to provide. For example:
Covered parking for multifamily housing – by statistics, protection for tenant vehicles dramatically raises property value, marketability and tenant retention
Covered parking structures for commercial and institutional complexes – a high-value feature that attracts and retains tenants, and helps them to better serve their clientele and staff
Storage – steel canopy protection from the elements for equipment and goods.
Covered Parking Structures: Design Options
Our steel carports are available in four primary configurations, to meet your project's requirements.

Commercial Carports: Project Design, Engineering and Execution
Any commercial carport project begins with an idea. Many steps follow, to move that idea into reality:
Site layout
Architectural design selection and review
Structural design and analysis
Foundation design, engineering and layout
Design and engineering documentation
Design and engineering submission for building authority approval
Contractor selection
Installation advice and troubleshooting

Whether your project is simple, or you face special challenges such as seismic activity, extreme weather, or restrictive local ordinances, our expert team will work with you, your architects and planners to complete the job smoothly.
ENGINEERED PLANS
Original plans, stamped and sealed by an engineer licensed in your state, are provided at a nominal rate. Achieving load bearing characteristics described in any plans is dependent upon proper installation.
INSTALLATION
We supply all materials for our commercial parking structures – installation is by contractors you retain. A table of estimated installation costs can be seen here.
As with every phase of your project from conception to completion, our team is available to consult with you on contractor selection.
FINISHING
It's understood you will want to tailor your carports' finish to integrate with the rest of your property – so full cantilever, semi-cantilever and T-frame supports are delivered in bare steel, ready to prime and paint. Steel roofing panels may be ordered in a wide range of colors.
SOLAR PANEL READY
Absolute Steel fabricates a variety of steel frame carport systems that accommodate photovoltaic arrays (solar panels). Our carport frame systems are in use by some of the largest names in the solar industry. More information on solar canopies here.
Commercial Carport Gallery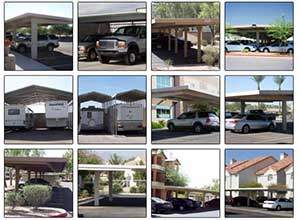 Absolute Steel commercial carport system project examples.
WHY ABSOLUTE STEEL?
In serving a long list of customers – in the private sector and at all levels of government – we've established a solid reputation for integrity, product quality, superior service, and reliability. We're proud of that reputation, and look forward to demonstrating its worth as we work with you. Contact us today.
Call 1-877-833-3237 for more information!
* Original engineered plans, stamped and sealed by an engineer licensed in your State, are available upon request for an additional charge. Achieving load bearing characteristics described above are dependent upon proper installation.