Single Slope Carport Kits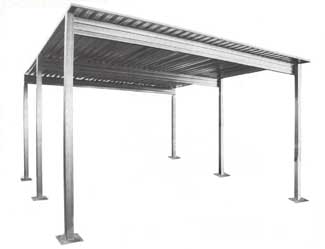 Two-car single-slope carport

18′ Wide x 20′ Deep x 8′ Clearance *

30 lb snow load / 90 mph wind
Concrete base mount plates available
EASY ASSEMBLY
* Ground Mount Clearance: 7'11"
* Concrete Mount Clearance: 7'8"
MANY USES!
Auto / Truck / RV cover
ATVs
Livestock
Play Areas
Dry Goods Cover
Boat Storage
Equipment covers
Apartment carports
Absolute Steel's Single Slope 2 Car Carport represents the most honest free standing metal carport value in America! This engineered steel carport is sturdy – it brags of a 30 lb. snow load capability and can withstand 90MPH winds!
Our standard kit easy to assemble too! Your entire freestanding carport kit consists of 33 parts! That includes the posts, panels and all the trim. The frame itself consists of a mere 12 pieces. And the unassembled kit can be transported in the bed of a pickup!
Don't be fooled by cheap and flimsy carports that are only rated for a 10 or 20 lb. load. Our single slope carport is all steel and rates for a 30 lb. per square foot snow load and a 90 mph wind load*. Available in white only, the rugged 26 gauge painted panels come with a 25 year warranty against the paint chalking, fading or peeling!
CUSTOM SIZES AVAILABLE!
Need 60′ x 40′? Or how about 120′x 40′? Whatever the size, you tell us what you need and we will do our best to make it happen.As with anything there are limits, but we have a fine team of professionals ready to take a look at your project and let you know if we have a free standing metal cover that will work for you.
Don't let the word "custom" concern you. Rest assured you will be getting the best possible protection for the least possible per square foot cost.
There is no comparison to the quality especially when considering the price! Ours is 30-40% less money than our competition and our price includes delivery!**
We are so confident that this is one of the best buys on carport kits that we encourage you to shop the competition!!
A competitors price: $2,695.00 + shipping
(without a 30lb snow load capability)
OUR PRICE DELIVERED:

Only $1,795
INCLUDES SHIPPING!*
(* In western states. Add $199 for shipments east of the Mississippi River)

CUSTOMER PICKUP PRICE:

Only $1,595
Pick up in TX or AZ.
This is the customer pickup price at
one of our facilities in Texas or Arizona.
Call 1-877-833-3237 to place your order!
* Original engineered plans,stamped and sealed by an engineer licensed in your State, are available upon request for an additional charge. Achieving load bearing characteristics described above are dependant upon proper installation.
** Price includes delivery to the nearest freight terminal to the zip code you furnished us when ordering. Jobsite delivery is available for an additional $85 in most areas. (Standard kits only. Custom sizes may have additional freight cost and will be quoted by job)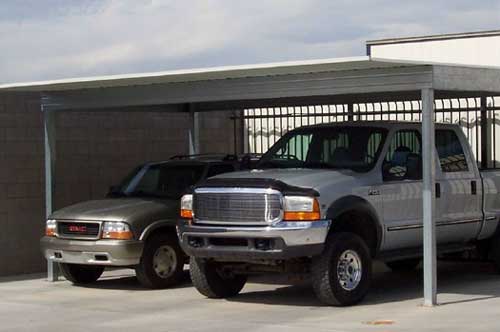 ---
Absolute Steel Buildings and Carports – Designed for the Do-It-Yourselfer
Easy to Assemble Steel Building Kits and Carport Kits