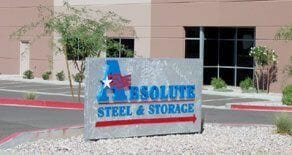 Founded in 1999, Absolute Storage LLC dba Absolute Steel is a privately owned Arizona Limited Liability Company which is headquartered on approximately five acres of commercial property near Elliot Road and the Interstate 10 Freeway in the metropolitan Phoenix area. It is at this location that we showcase all the steel buildings, carport systems, barns and storage sheds that we have become nationally known for.
When you deal with Absolute Steel, you are dealing with the company that manufactures the products it sells. We are not brokers or a website drop shipping from a factory they do not own. Moreover we maintain a staff that thoroughly understands the products we deal with, many of which have been with us for ten years and longer.
This gives you, the customer, accountability. And because Absolute Steel is the manufacturer, the company can rapidly design and produce building systems which conform to specific requirements.
Absolute Steel structures are organized into the following categories:
Certifications and Contracts
US Federal Government:

GSA GS-07F-9481S
Category: 361 10, 361 10A

State of Texas
American Welding Society
Company Facilities and Equipment
Absolute Steel maintains production facilities on its own properties in Arizona and Texas. We utilize proprietary equipment (robotic welders and multiple piece benders) to ensure efficient and quality production thereby offering the best value possible.
The company's administrative infrastructure controls inventory and parts manifests for more than 4500 standard product sizes in more than 15 unique styles. As well as industry proven sizes, the company can accommodate most custom requests.
Expertise and Experience
Since founding in 1999, Absolute Steel has fulfilled orders to over 100 government agencies, over 1,000 corporate clients, and thousands of individual public sector purchases. Below is a small sample of some of the higher profile customers we serve.
U.S. Army Corps of Engineers
Department of Homeland Security
Department of Veterans Affairs
U.S. Department of Agriculture
U.S. Department of Energy
Federal Bureau of Prisons
U.S. Department of Interior
U.S. Forest Service
U.S. Air Force
U.S. Navy
U.S. Marine Corps
U.S. Army
---
---
Currently, Absolute Steel's building system is in use in the following countries:  U.S.A., Iraq, Afghanistan, Nicaragua, South Sudan, Ethiopia, Canada, Poland and Grenada. Each area has its own unique environment, hence engineering requirements. Absolute Steel has its own engineering department ensuring that all structures meet their local building code requirements. The company has met or exceeded engineering criteria for:
60 pounds per square foot/2.87 kilopascal snow load
Seismic issues throughout California, Hawaii and Alaska
Wind loads of 140 mph (225.3 kph) sustained winds, not three-second gusts
Additional services provided by Absolute Steel may include:
Site evaluation & selection
Structural Engineering
Onsite management & Training
Shipping Logistics—domestic or international
---
Want a Real Person?
Please call us toll-free at 1-877-833-3237
with any questions or quote needs! We are here to help.
Customer service and pricing available from 8:00 am to 5:00 pm Arizona time Monday – Friday.