D
o you have an existing RV storage facility that you want to upgrade to achieve better rents and occupancy?  Are you considering a new business endeavor and want to open your own RV storage facility?  Let our experience help you.
Boat & RV Storage Development Services Can Include:
I
n the course of most transactions we find ourselves giving you advice on a number of issues including but not limited to:
Development & site acquisition.
Construction.
Business plans & financing.
Add a Covered Parking System To Existing Facilities
A
bsolute Steel is proud to offer the Pro-Lease – an exclusive financing arrangement for the RV storage / Boat storage industries.
In short, we can provide your existing RV or boat storage facility with new covered parking with little or no money down. Instantly increase NOI and increase tenancy.  Click here for more details.
Experience Counts
Absolute Steel is uniquely qualified to assist you in maximizing cash flow:
We have developed RV and boat storage facilities.
We own & operate RV and boat storage facilities.
We manufacture the canopies and covers for RV and boat storage facilities.
We think RV and Boat storage can be a fruitful endeavor filled with opportunity. It is one of the last sectors of income property wherein the smaller developer/landlord can competitively invest. The reason why is that large equity firms aren't yet players in this specialized storage niche which means you can be at the top of the heap if you do things right.
Don't confuse RV and Boat storage with mini-storage – they are two different animals, the only similarity being the creation of storage space and someone who wants it. While the price per square foot is less for an RV or Boat space, the improvements cost less and the tenancy is much more stable; most mini-storage facilities have about 40% longer term tenancy while an RV/Boat storage facility has about 85% longer term tenancy.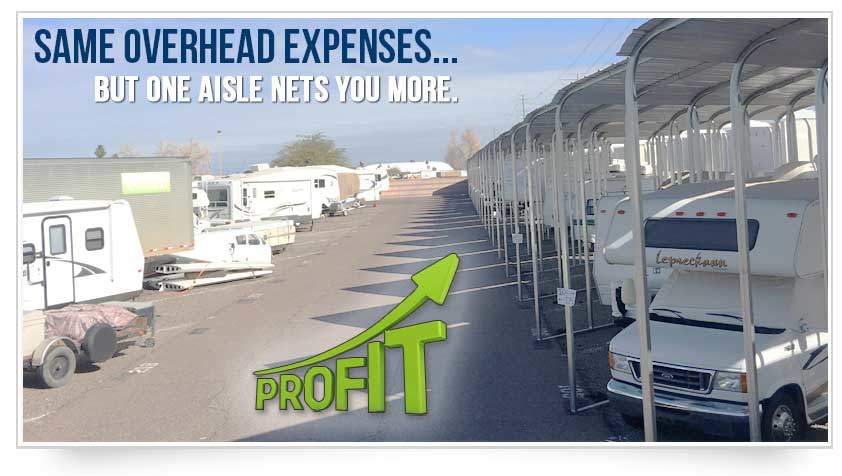 Start the Conversation…
Please call us toll-free at 1-877-833-3237
with any questions or quote needs!  We are here to help.
Customer service and pricing available from 8:00 am to 5:00 pm Arizona time Monday – Friday.
Or Email Us…