About Us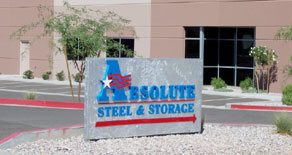 Absolute Storage LLC, the parent company of Absolute Steel & Storage, is a privately owned Arizona Limited Liability Company which is headquartered on approximately five acres of commercial property near Elliot Road and the Interstate 10 Freeway in the metropolitan Phoenix area. The company owns the entire property where its facility is located.
It is at this location that we showcase all the steel buildings, carports and storage sheds that we have become nationally known for. In fact, we believe that this is the largest display of its kind in America!
When you deal with Absolute Steel & Storage, you are dealing with a company (not just a website drop-shipping from a factory) that specializes only in steel structures and we maintain a staff that thoroughly understands the products we deal with.
If you live in Arizona or are planning to come to the area, come by and visit us!