METAL BUILDINGS  manufactured by our company come in a variety of styles and models to fit most any purpose, taste, and budget. We design and manufacture cost-effective metal buildings for everything from light residential use on up to heavy-use commercial applications.
If you are looking for a small 200-square-foot home workshop, a 600-square-foot guest house, or a large commercial structure of 4000 square feet or more we have you covered.  You order and we ship a neatly-bundled kit right to your job site.
ABSOLUTE STEEL forges our steel building systems from the ground up, beginning with a high-strength galvanized tubular U.S. steel frame system. In addition to being flat-out TOUGH, our structures are designed to be assembled without the need for special, high-priced equipment, such as forklifts and cranes.
Additionally, our metal buildings feature a stand-alone framing system that gives you the flexibility to use a broad spectrum of exterior materials such as wood, stucco, or veneers.

Our Metal Buildings Are Superior Because…
Used by the TOUGHEST customers in the WORLD…

Army

Marines

Navy

Air Force

Homeland Security
---
ABSOLUTE STEEL has a good reputation that is decades old, and our buildings have been tested by all branches of the US Armed Services for durability, ease of construction and superior value. We wouldn't be where we are today – one of America's leading metal building manufacturers – if this was not true.
Our steel structures stand strong in some of the toughest environments. Our structures stand strong with snow loads in excess of 60 lbs per square foot from the Sierra Nevada mountains to the freezing Canadian tundras. You can find our structures along the coast line of Florida, where sustained wind loads are in excess of 140 mph. Our building kits stand strong deep down in the Cargil salt mines, and in the deserts from Afghanistan to Death Valley, California.
All branches of the U.S. Armed Forces use our metal buildings. In addition, they are also the choice of many city, county, state and federal government entities, fire departments, police departments, municipal departments, and more.
Our steel structures are certainly not limited to government  uses  – THOUSANDS of private individuals and businesses large and small use our buildings, all across the United States. For a taste of what we mean, just take a look at some of our satisfied commercial customers.
Save
See For Yourself
Please take a look at the images below for real examples of what our customers have created with their Absolute Steel building kits.
The above is a video created and submitted to us by one of our customers – the person installing the building.  Click play above, turn on the sound, and enjoy watching!
From the customer, who put together this video and sent it to us:
Jennifer attached is my building project. As you can see it is finally finished and turned out great. For all the naysayers I built this pretty much by myself. A 71 year old guy with only some minor help from my wife and a friend once in awhile.
Hope this video turns out great. This was my whole project including the rear and front block wall. Yea!
Thank You for all the help
Lynn and Karyn P.
A reply from Dean Thomas, owner of Absolute Steel:
Lynn & Karyn,
As the owner of Absolute Steel, I certainly want to thank you for sharing your building installation with us. We've been at this for over 20 years and send our buildings all over the country and the world. (Only 20% of our sales are here in Arizona.) Very seldom do we ever get videos or feedback of any kind so it's always encouraging for the staff to see the fruits of their labor…caused I might add, by the fruits of your labor!
It's a good joint effort!!
Many times I have told staff that we have the best customers in world—they're hardy, self-sufficient folks who have commonsense and know how to get things done. Obviously that describes you.
Thank you for your good faith in trusting Absolute Steel with your project!
Best,
Dean Thomas
Building Project Gallery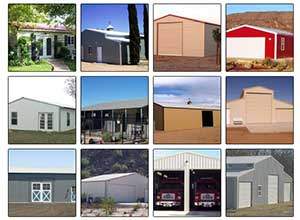 View some examples of what customers have done with their metal buildings.
---
Let's Start the Conversation
Please call us toll-free at 1-877-833-3237
with any questions or quote needs.  We are here to help.
Customer service and pricing available from 8:00 am to 5:00 pm Arizona time Monday – Friday.