Carport Kits
Absolute Steel carport kits are the perfect way to keep your vehicle shielded from the elements.
Our metal carport kits and RV covers are of the highest quality and are engineered with the DIY person in mind. Absolute Steel metal carports give you the best in durability and convenience, while maintaining a great price that's easy on your budget.
Carports from Absolute Steel are not only are the right way to cover your vehicle, but our carport kits make great RV covers, boat covers, heavy equipment storage, recreation canopies, utility carports and more! We have several styles of metal carports available, from residential to commercial.
Metal carports are available in several varieties…


Sonoran (Standard) Carport Kits

The metal carport that started it all- available in widths from 10' to 40' and side heights from 7.5' to 15.5'.  Standard main frames are 2" x 3" 14 gauge galvanized steel for rugged durability.
More on Sonoran Carport Kits

The Sierra metal carport is named after the mountains. The Sierra style carport has a vertical panel design that is right at home in snow country.
More Sierra Metal Carports 

Our SofTop® Shade Canopy is very popular as a carport. The unsurpassed quality and value make it by far the best cable-tensioned shade canopy carport on the market.
More on SofTop® Shade Canopies


This metal carport is the only carport kit that utilizes our Grand Beam panels which are made to look like shiplap siding.  12″ eave extensions add a residential look to this carport style.
More on Teton Metal Carports

Commercial parking structures are structures used in commercial applications (Multi family, office and industrial) or why not your home. We can provide covered parking for 6 to 600 or more vehicles.
More on Commercial Carports


Single Slope Metal Carport Kit

Use it for ramp covers, canopies, apartment complexes, equipment covers and even livestock shades. This freestanding carport can be used for one or two cars or can be designed for several hundred cars. 
Single Slope Metal Carport Kits


The San Tan Metal Carport Kit

Limited to only a few sizes, the San Tan carport most resembles the Sierra's profile but it's priced competitively because it doesn't have the various trim applications.
More on San Tan Metal Carport Kits

Absolute Steel & Storage custom fabricates our metal carports, and distributes per-engineered steel car port frame kits throughout the United States. We do so in the most economical way possible so that you 

SAVE AS MUCH AS 30% – 40%!

You will pay commercial shipping rates with no markup and in the event you are unable to handle delivery of steel panels to due length constraints, we can usually find you a local source from which you can purchase your panels.
---
TESTIMONIAL:

"I did a lot of research before buying my carport from you folks at Absolute Steel & Storage. You had the best pricing, you delivered my system within days after ordering and I found it went together easy.

Thanks for a great product and a smooth transaction!"

Charles G.
Pahrump, Nevada
View his project!
---
The Original Metal Carport Kit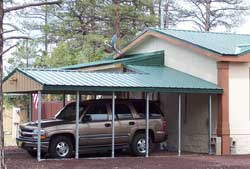 Absolute Steel's original galvanized metal carports are available in a wide variety of colors and come in many standard widths.
Carport widths from 10' wide to 30' wide
Eave height of 7.5' high to 12.5' high
Our car ports can be as long as you want.
Of course, because you're dealing with the actual fabricator and not just a broker, we can customize sizes to fit your special circumstances!
Important Note: We now offer the new HD System ("heavy duty"). Made of larger tube steel (2″ x 4″), our HD System can go up to 40′ wide and have sidewalls (eave heights) of up to 15.5′ high! That's a peak of over 22′ 2″!!
Call 877-833-3237 for pricing on the HD System as it is not contained within our online carport pricing system.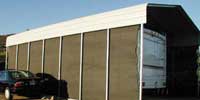 Absolute Steel & Storage is the low price leader of these quality steel carport kits! If you reside outside of Arizona, your frame package is shipped to you directly from the factory. Often the sales tax you don't pay more than covers the shipping costs! In our local markets, Absolute Steel & Storage prices are as much as 30% lower than the competition!
Our pre-engineered steel carport kits are Made in America by us, not some factory we have no control over. We use only 14 gauge steel tube with a G-90 galvanized plate covering 2″x 3″ or 2″ x 4″ steel with a guaranteed minimum yield strength of 50,000 psi for years of maintenance free, rust resistant service. Please visit our Technical and Specifications page for more information on America's best tubular steel building system.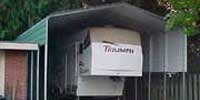 The difference between our system and the competition's is the ease of construction. Male/female "slip-joint" connections make assembly simple and fast! Standard frame packages can be assembled in a few hours, not days! Additionally, your parts are stronger and heavier than ever offered by any competitor …check it out: ask for the size and specifications of their steel!
So what does all this do for you? It gives you America's Easiest to Assemble Building System that's made with the highest quality materials!
---
Easy Installation!
We put hours worth of energy into the frame system so you don't have to. "Slip fit"connections make framing a snap…standard carport frame kits can be assembled in a few hours, not days!
Flexible!!
You can start with a carport or metal canopy and later, easily convert it into a garage, shop or storage building!
---
Our Metal Carport Kits Are Flexible.
Exterior carport panels come in 18 different colors and are fully guaranteed for 20 to 25 years against fading, chalking, cracking or peeling.
You can drop the panels down one side or both!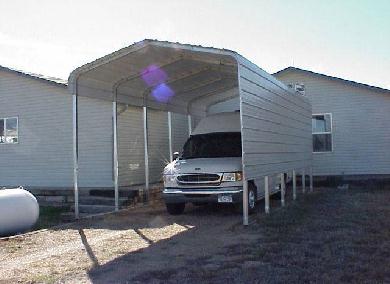 Or you can start with one of our carport kits now, and later easily convert it into a garage, shop or storage building!
Please call us at 1-877-833-3237 or get a free INSTANT online quote!