Garage Kit by Targie L. in Napa, California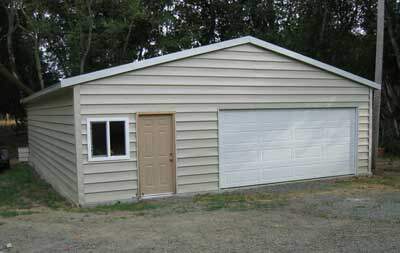 Hello Galen,
First, I would like to apologize for taking so long to send these pictures, if you can use them you are welcome to. If you remember, I was working in Louisiana last year and was coming home once a month for a few days and working on putting up the garage. Finally I came home in Dec. and my 2 daughters came home from college and between the 3 of us, we put up the insulation, siding and roofing, so it can be done by the average person. I'm very happy with it, I only had 1 leak and that was a screw that didn't get tightened all the way. I still have to wire it and paint the door and frame.
I'm now getting ready to build a barn and I was wondering if you can custom design a building using the same type of siding that I used on the garage. I want to build a barn 40′ long and 20′ wide, but the roof would be 40′ wide and the inside wall of the barn would be unsided so that I could make stalls and doorways for the interior. If this sounds like something that you do, I can give you some sketches that would explain it better.
Thank you,
Targie L.
Napa, CA