Our steel garage kits are available in many sizes and styles to fit your uses, your environment, your budget – whatever your needs may be. We are nationally known for top-grade structures – often fitting right in, in places other buildings would simply not work.
---
Sierra Series Steel Garage Kit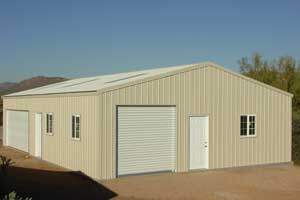 Our  Sierra Series garages are designed in the tradition of conventional steel buildings, but also feature our "stand alone" frame system. This means that if you intend to cover the outside of your garage with materials other than our steel panels, this is the style to choose.
Exterior steel panels are applied vertically (that is, with the panels' formed ridges running vertically, rather than from side to side, as in other building styles). For secure attachment to your garage's frame, steel cross-members are added to roof and side-wall frames. These are called "purlins" in the roof framing, and "girts" in the sidewalls. This enables you to install almost any sort of sidewall sheathing and exterior treatment you like – AND it results in an extremely durable building overall.
Just one more plus to the purlin and girt system: it makes paneling installation easier and more "forgiving" than you'd experience with other systems.
---
Mohave Series Steel Garage Kit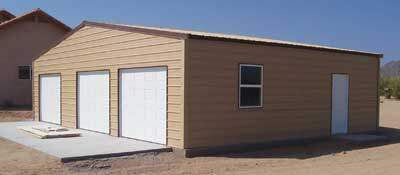 The Mohave Series garage is designed to give you the look of a traditional building, but in the most economical way possible.
With engineering available for most all continental US areas, the Mohave Series gives you rugged durability along with economic practicality.
The Mohave steel garage has the same eave profile and vertical roof as the Sierra style described above, but side wall paneling applied horizontally – assembly is fast, simple and straightforward.
---
Teton Series Steel Garage Kit
The Teton Series garage is designed to integrate into the urban environment, with its 12" soffit eave overhangs and distinctive exterior paneling, replicating wood shiplap siding.
This all-steel garage has the strength and maintenance-free characteristics of a modern metal building, with a distinctive residential appearance.
The Teton's heavy, 26-gauge paneling goes on horizontally, which means it's a simple job from the ground up. Trim designs compliment and add dimension to the building's distinctive profile.
Available for delivery only in GA, FL, AL, MS, TN, & SC.
---
Sonoran Series Steel Garage Kit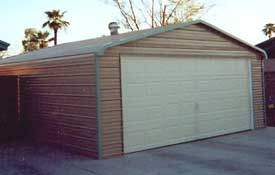 The Sonoran Series garage is the most economical and easiest to build of any of our metal buildings. This steel structure performs well in most any environment but is not recommended for areas having much in the way of snow loads – not because it won't meet engineering requirements, but because the ribbed panels are applied in a horizontal fashion, which can inhibit the easy runoff of snow.
The Sonoran can be used in urban or rural areas and is a great solution for  utility storage, boats, cars, trucks or just general warehousing. This is the building that can begin serving you as a open carport, then later easily convert to a fully enclosed garage.
The simplest to assemble of any building we offer, a beginner with limited tools and construction background will have no problems installing the Sonoran Series.
---
Gambrel Garages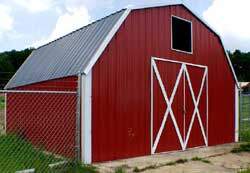 No other steel building company in America offers you the option of the gambrel barn style steel garage!
The advantages of the gambrel are the same as those that led European farmers to come up with the design centuries ago: maximum interior space.
With two different roof slopes inclining towards the peak, the volume of storage is quite amazing, regardless of the building's outer perimeter. Taller door heights are available in the gambrel than in any of our other buildings. This makes it easy for the gambrel to accommodate the highest-profile RVs.
Quite at home both on the farm or in the neighborhood, the gambrel by Absolute Steel has a straightforward panel application, whether you choose horizontal or vertical panels. And the frame is as simple to assemble as any of our other buildings.
Click for floor plan ideas, more information, and pricing.
---
The Maricopa Steel Garage Kit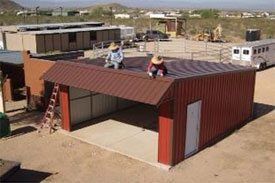 Get the Maricopa saltbox style steel garage, and you'll get a superlative product!
The Maricopa is available as a DIY kit, or with professional installation.
Professional installation available in Arizona and East Texas Only (at this time).
NOTE: Pricing on our Maricopa style is not available online. Please call for prices and shipping info.
Read more about the Maricopa style building.
---

Click here to get Instant Pricing NOW!
Want a Real Person?
Please call us toll-free at 1-877-833-3237
with any questions or quote needs! We are here to help.

Customer service and pricing available from 8:00 am to 5:00 pm Arizona time Monday – Friday.