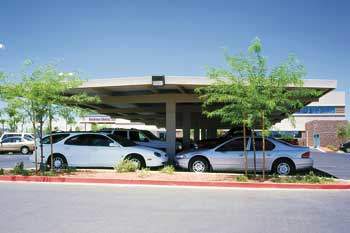 The T-frame carport design, also known as double cantilever or T-cantilever, features full cantilevered roof coverage extending in two directions. Making the greatest use of engineering's cantilever principle, it is ideal for large, open parking areas where minimal interference from support posts is desired.
Commercial Carports: Project Design, Engineering and Execution
Your commercial carport begins with an idea. As you're aware, there's a lot to be done to make the idea a reality:
Laying out the site
Architectural design, to fit well with the rest of your property
Foundation and structural design and engineering
Design approval and permitting
Retaining a contractor for installation
Installation and finishing
Your particular project may be simple, or you may face challenges like severe weather or earthquake dangers. Either way, our expert team stands ready to work with you, your architects and planners to make the project a success.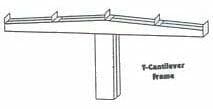 ENGINEERED PLANS
We will supply engineered plans, signed and stamped by an engineer licensed in your state, at a nominal rate. Please note that attainment of the load-bearing characteristics described in your plans is dependent upon standard installation.
INSTALLATION
Though Absolute Steel supplies all parking cover frame and roof materials, installation is by a contractor you select. We've prepared a table giving estimated installation costs per parking space, for your use in planning, and obtaining bids. We will be happy to consult with you on contractor selection, if you so desire.
PRICING ESTIMATES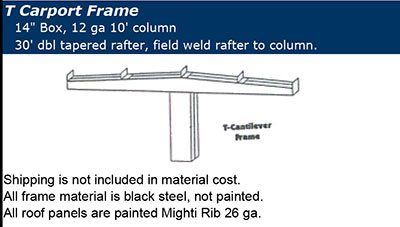 Installation: Estimated at $991.03 per space. Note that installation costs can vary depending upon location and ground conditions. Our installation cost estimates should be used as a rough estimate only.
FINISHING
Since you will want to integrate your carport's final finish with the rest of your project, we deliver all major frame components in bare steel, ready for priming and painting on site. Roofing panels are available in a wide range of colors.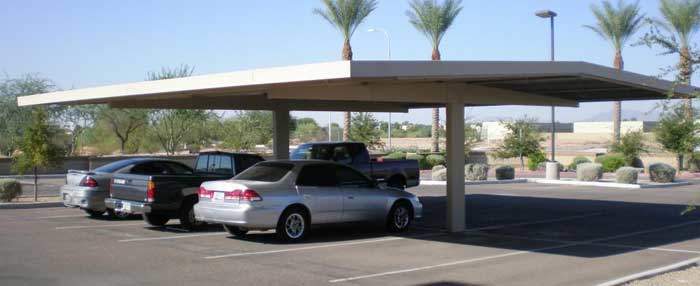 Commercial Carport Gallery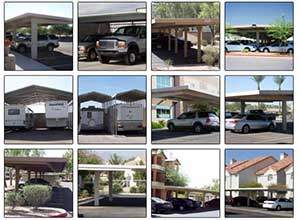 Absolute Steel commercial carport system project examples.
WHY ABSOLUTE STEEL?
Over the decades we've been privileged to serve a long list of customers. Whether private individuals, companies small or large, or municipal, state or federal agencies, we're proud to have worked with them. We look forward to working with you, too, and confirming our reputation for superior service, product quality and reliability. Contact us today.

---
LET'S TALK ABOUT YOUR PROJECT
Please call us toll-free at 1-877-833-3237
with any questions or quote needs!  We are here to help.

Customer service and pricing available from 8:00 am to 5:00 pm Arizona time Monday – Friday.
Or Email Us…