NGOs and Private Contractors Have Special Needs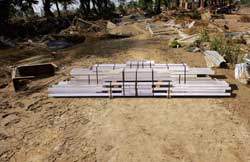 Whether it's a steel building bunkhouse to house a crew or transitional relief housing to house a family, cost and quality are not the only requirements you need to address – ease of assembly and deployment are also key considerations.
Manageable Packaging: Absolute Steel metal buildings are packaged to deploy easily to most any theatre of operation. You will need no heavy transport equipment to deliver the building system nor cranes to assemble once on the job site.
Ease of Assembly: Absolute Steel buildings are easily assembled by unskilled labor using commonly found tools. This has been proven thousands of times by government purchasers and private consumers, all who have realized significant savings with our easy to assemble steel building system.
Watch the video and see for yourself
Absolute Steel – Your Trusted Vendor
Absolute Steel  has a long standing reputation of delivering not only a superior product but with our years of experience we offer the following services as a part of our commitment to your project:
Please view the following:
Turn-key Metal Buildings
A Reputation For Reliability
Private Contractor Teaming: No matter the global location, Absolute Steel provides you or your contractor with a cooperative and rewarding relationship that assists in completing what's needed to bring the project into reality.  Many times such projects are isolated, hard to access theatres of operation where specialized tools are not readily available.
The Absolute Steel building system is expressly made for such circumstances.
Our ability and reputation in providing you or your contractor with more than just a building system has long been established.  Our value-added services that are beyond merely being your building supplier are invaluable when budgets and time restraints need to be unequivocally met and/or exceeded.
That is the Absolute Steel promise to you: On Time and On Budget.
As well as industry standard sizing of metal buildings, we have designed, fabricated and delivered our building system to meet a wide variety of demands and situations.
The World's Most Adaptable Steel Building

We Stand Ready to Deliver
---
Want a Real Person?
Please call us toll-free at 1-877-833-3237
with any questions or quote needs! We are here to help.
Customer service and pricing available from 8:00 am to 5:00 pm Arizona time Monday – Friday.
Save