Metal Garage Kits : Workshops, Storage, Garages
Metal garage kits are perhaps our best selling structure type, and our garages are the foundation upon which we built the rest of our steel structures.
Absolute Steel buildings are ENGINEERED EASY to build. Our garage kits are designed to be constructed by one or two people with minimal or no building experience. The slip-fit frame connections make installation and construction a breeze.
Our garages are available in most any size, and are configurable to include one or several bay doors, pedestrian doors, windows, and other options.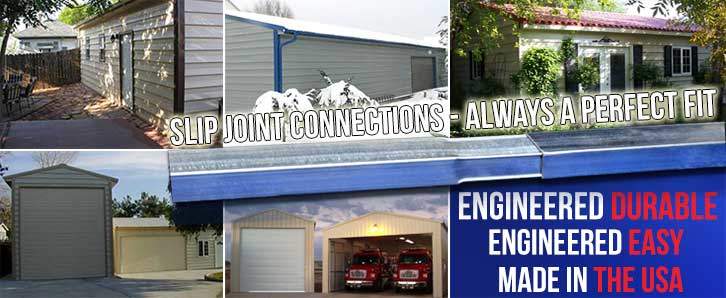 Metal Garage Kits ~ Easy Assembly ~ Low Prices ~ Made in America
Only Absolute Steel offers you metal garages that are constructed with a galvanized frame system that goes together easy. Our garages are designed to be assembled with no special or high priced rental equipment such as forklifts and cranes.
Additionally, our "Stand Alone" frame system that ships with our metal garage kits give you the flexibility to use a broad spectrum of exterior materials such as wood, stucco, veneers etc.
Our metal garage kits come in a variety of colors and can be designed to be HOA friendly.
Absolute Steel Garage Kits Provide You With…
The "Stand Alone" Frame System
No other metal garage kit system gives you the flexibility of using most any exterior material you want – wood, stucco, brick, etc. Click here to learn about the steel frame.
Undeniable Structural Integrity
Our structures have held up to the extreme conditions of Hurricane Katrina and winds of over 100 MPH. They have survived rust-free deep within salt mines, were unfazed by the Arizona desert, and stood tall in the freezing Canadian tundra.
Our pre-engineered steel garages are Made in America using 2" x 3" 14 gauge galvanized steel with minimum yield strength of 50,000 psi from Allied for years of maintenance-free, rust-resistant service. Please visit our Technical page here or at the top of this page for more information.
We are so confident in our structures that our frame systems have a 20-YEAR WARRANTY and the exterior panels have a 20 to 40 year warranty against fading, chalking or peeling.
Sizes and styles available to fit your space and need
Absolute Steel metal garages are available in widths up to 40′ wide; standard lengths start at 20′ and increase in 4'or 5′ increments until you run out of land. Our metal garages are offered in standard heights starting at an eave height of 7.5′ and can be increased in 1′ increments up to a 15.5′ eave height. A 15.5′ eave height can give you clearance of 15′-4″ on a 40′ wide garage!
If your project demands it we can also manufacture our steel building kits in a custom size to fit your needs without the "custom" cost.
High quality, durable steel frame system
We at Absolute Steel are dedicated to constant improvement. Please take a moment to understand the technical aspects of our structures' frame system. We are very proud of these frames because they're the best in the business. Easy to install for our customers, and incredibly strong. See the technical aspects of our metal garages frame system.
Color options for steel panels and trim
Your garage kit's exterior panels can come in 18 attractive colors and are fully guaranteed for up to 30 years against fading, chalking or peeling.
Metal garages that have been tested
Our steel buildings and metal garages have passed the most rigorous tests by branches of the US military for strength and durability. Our buildings are in use by many fire departments, police departments, commercial companies and municipalities. Private, commercial, and government agencies from California to Vermont, from the Appalachians to Alaska, and from Iraq to Poland have become satisfied customers of our building kits.
Absolute Steel & Storage consistently beats the competition's pricing. We know; we get shopped every day and our customers always come back to us.
We ship nationwide directly to you or your job site.  Our prices include FREE JOB SITE DELIVERY except to AZ, AK, & HI. Alaska and Hawaii shipping is calculated by individual quote. Arizona has customer yard pickup available, but individual shipping can be calculated.. Your steel garage frame kit will be shipped directly from us via common carrier. In most cases the exterior panels and trim will be shipped from the panel supplier in our network that is closest to your job site location. We have an extensive nationwide database of suppliers for your paneling and reduced shipping is another reason we are able to provide lower prices.
Available in 6 styles – With thousands of size, color, and configuration options
The most important thing is that hours worth of energy have been put in at the factory so you don't have to.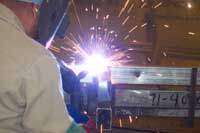 Professional Installation Info
"Slip Joint" connections make framing a snap…standard frame packages can be assembled on a weekend!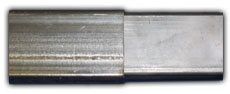 View Some of Our Customers' Completed Garage Kits
Click on an image below for larger view and more information.
---

Click here to get Instant Pricing NOW!
NOTE: Pricing on our Gambrel and Maricopa styles are not available online. Please call for pricing.
Want a Real Person?
Please call us toll-free at 1-877-833-3237
with any questions or quote needs! We are here to help.

Customer service and pricing available from 8:00 am to 5:00 pm Arizona time Monday – Friday.